Product Description
Contay Fusidic Acid CAS 6990-06-3
Description
Fusidic acid is a steroid antibiotic that is isolated from the fermentation broth of Fusidium coccineum. It has a role as a protein synthesis inhibitor, an EC 2.7.1.33 (pantothenate kinase) inhibitor, and an Escherichia coli metabolite. It is a 3alpha-hydroxysteroid, an 11alpha-hydroxysteroid, a sterol ester, a steroid acid, an alpha,beta-unsaturated monocarboxylic acid and a steroid antibiotic. It is a conjugate acid of a fusidate. It derives from a hydride of a 5alpha-cholestane. Fusidic acid is slowly bactericidal in vitro against S. aureus and concentration-dependent inhibition has been demonstrated against Escherichia coli.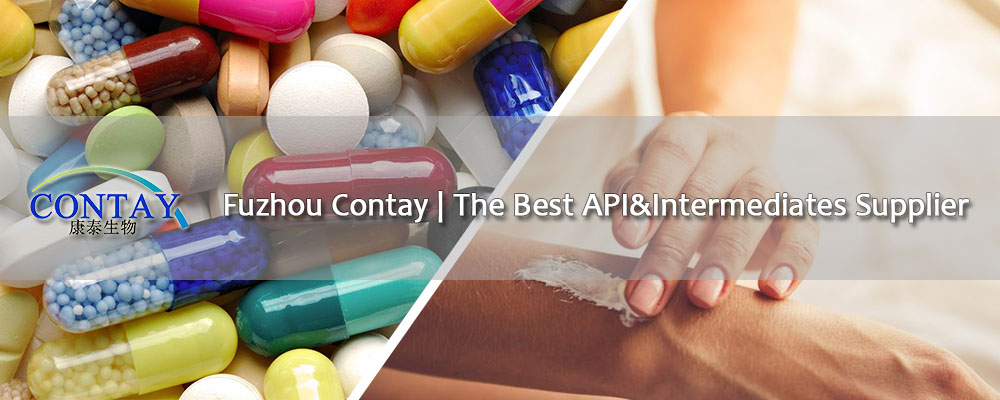 Certificate of Analysis
| | |
| --- | --- |
| PRODUCT NAME | Fusidic Acid |
| CAS NO. | 6990-06-3 |
| APPEARANCE | White or almost white, crystalline powder |
| CERTIFICATIONS | CEP DMF |
WHAT WE CAN OFFER
Fuzhou Contay chose fermented way to manufacture Fusidic Acid, for our clients, Fuzhou Contay is willing to provide the best services all the time.
1. Qualified product. ISO registration number 9001: CN-00219Q22932R0S; 22000: CN-002FSMS1900161. Also, we have KOSHER, and HALAL.
2. Competitive price. Proud of our R&D team, we can guarantee to provide competitive price to you based on advanced tech.
3. Registration support. Registration team already finished CEP & DMF, GRAS designation.
4. Comprehensive service. From pre-sale to after-sale, our R&D team, Production Unit, Quality Unit, Registry Department, and Logistics Department are all stand by to offer the best service for you.